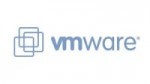 What is Vmware Tools?
What is Vmware Tools?
With the VMware Tools SVGA driver installed, Workstation supports significantly faster graphics performance.
The VMware Tools package provides support required for shared folders and for drag and drop operations.
Other tools in the package support synchronization of time in the guest operating system with time on the host, automatic grabbing and releasing of the mouse cursor, copying and pasting between guest and host, and improved mouse performance in some guest operating systems.
VMware Tools is a suite of utilities that enhances the performance of the virtual machine's guest operating system and improves management of the virtual machine. Without VMware Tools installed in your guest operating system, guest performance lacks important functionality. Installing VMware Tools eliminates or improves the following issues:
Low video resolution

Inadequate color depth

Incorrect display of network speed

Restricted movement of the mouse

Inability to copy and paste and drag-and-drop files

Missing sound
VMware Tools includes these components:
VMware Tools service

VMware device drivers

VMware user process

VMware Tools control panel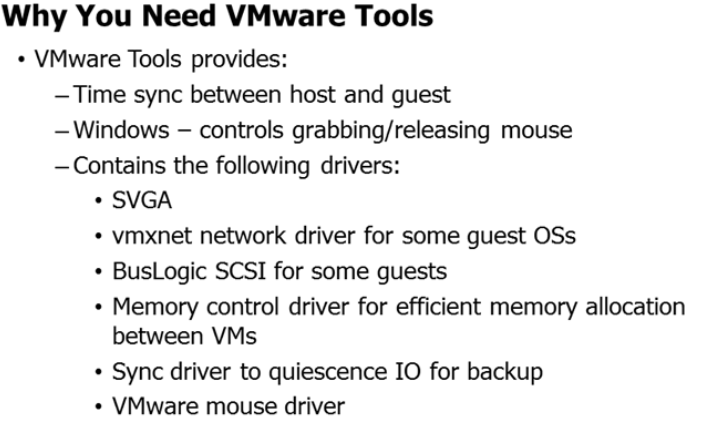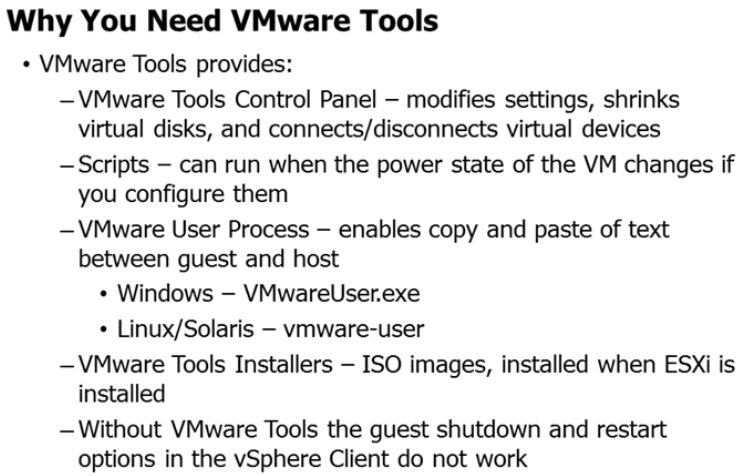 Related Posts
VMWare comparison

VMWare comparison of vsphere 4, 4.1 & 5. Maximum Configuration comparison of ESX hosts to…

What is VMware DRS?

What is VMware DRS? VMware Distributed Resource Schedule (DRS) VMware DRS dynamically balances computing capacity…