How to apply for DVAT Online
Delhi government has made easy for seller to apply for DVAT/CST online. However, many of us are not aware completely that how to apply for DVAT online. Below steps will help us for doing that.
You have to first provide the initial details like PAN number, Company Name, Email etc. after that PAN verification will be done once it wil be completed then you have to wait for few days to get your login ID and password to proceed.
1. Login to http://dvat.gov.in/. Click on "New Registration"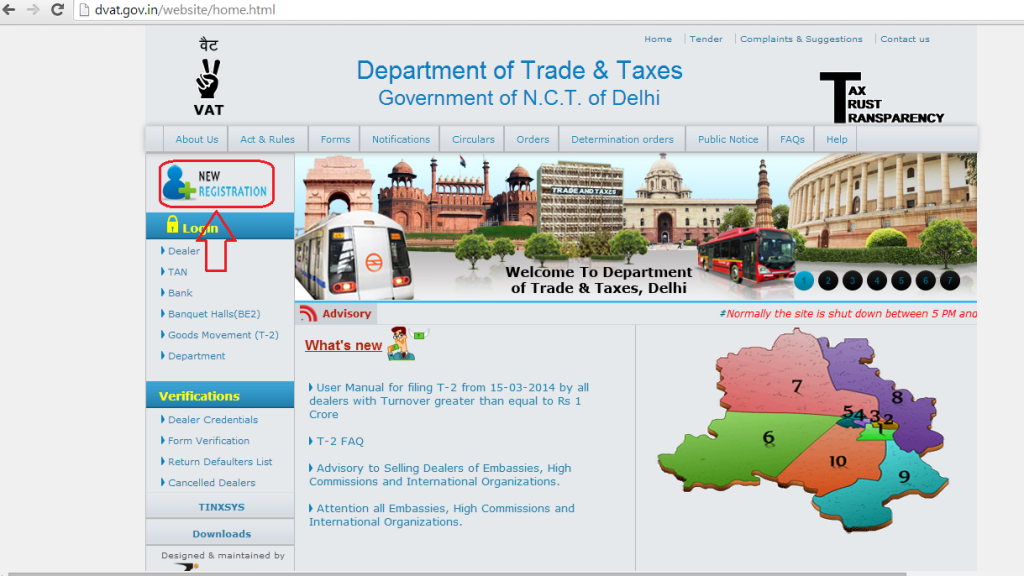 2. "Request for Registration" form will open in new window.
In the beginning, few information will be required. However, not all are mandatory.
So, fill the form accordingly like:
Name of The Firm/Company, Constitution of Business, Type of Dealer, Regular TAN Casual, PAN (Permanent Account Number) of the Firm/Company, Name in PAN Record, if different from name of the Firm, Do You Have AADHAR Card, Enter Your UID, Name as per AADHAR,  Date Of Birth of AADHAR Card holder, Designation of AADHAR Card holder, Mobile No of Applicant,  Email of Applicant,
Once you provide the above details fill the captcha text and submit.
You will Immediately get an email from HelpDesk.DVAT with reference no. that can be used further to check the status of your application. Usually it takes 2-3 working days to get it approved.
3. Once, it is approved. You will get another email from Helpdesk.DVAT which will confirm the verification of PAN details with username and password to login to the portal. Usually, Reference no. is your username and password is contact number you provided at the time of registration. Though it is compulsory to change your password at first login.
4. You have to create 2 password at first login. 1. Login and second is Approval password
Open http://dvat.gov.in/ again and click on Dealer (it depends what you have chosen while registration)
>
Provide the reference no. in userid and click next. Follow the instruction for creating new passwords.
5. Once password is created. You have to login with new credentials you shall get the Form "DVAT 04 PART-A" though it has 4 parts:- PART B, PART C & PART D. All four needs to be completely filled. Alongwith CST form.(if have opted for CST as well)
You just need to move your cursor to the tabs in Top-Left. to select the appropriate form.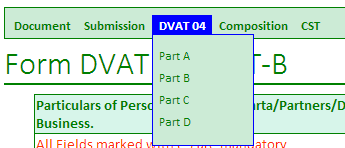 You have to upload the document and photo as well by choosing the document tab and upload
Click here UserManual(Registration) to get the complete detail of documents and photo required to be uploaded with all process.
How to apply for DVAT Online

,
>